The tradition of the Georgetown Santas began in 1999. Santa Jack Schmiedeler would stand out at the end of his driveway and wave at the passersby. He then started handing out candy as cars stopped to see Santa. The following year, Santa Paul McDaniel joined up with Santa Jack to spread the Christmas cheer. Within the next three years, Santas Pete Martin, Mike Chaput, and Mel Augustine joined in to support the cause. It was about that time that the Santas and their helpers; Justin Martin, Virgil Michaelis, and Larry Thompson; began handing out freshly-popped popcorn in addition to the candy. From these humble beginnings has grown a true Christmas tradition on Georgetown Road in Salina, KS.
The Georgetown Santas now greet thousands of visitors each year in the days leading up to Christmas, from neighbors that approach on foot, to travelers coming in from out of state. The Santas distribute hundreds of pounds of candy, several thousand candy canes, and the Elves pop over 350 lbs. of popcorn in their 3 days of operation, annually.
Why do this? Simply because it gives them great joy to spread a little happiness and cheer with others around Christmas time.
Georgetown Santas, celebrateing25 years in 2023
HOW TO JOIN IN ON THE FUN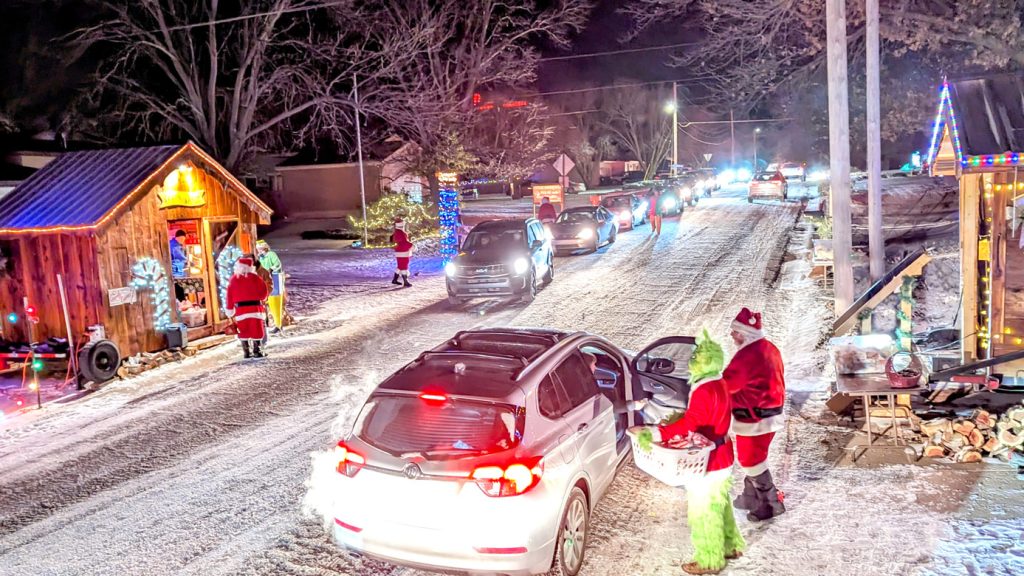 Wondering what it's like to attend the Georgetown Santas event annual?
The best way we've found to describe the Georgetown Santas is that it is a Christmas Drive-Thru Experience. Jump in the car with the family and head over to 2312 Georgetown Rd. in Salina, KS. On approach, you will be greeted by our elves helping direct which way to go. All you have to do is stay in your car and roll down the windows. We'll do the rest! A Santa and more elves will greet you by sharing chocolate, candy canes, popcorn, and some holiday cheer! Then you're off to tour the Christmas lights of Georgetown Rd. and the surrounding neighborhood. Pictures with the Santas are welcome, we just asked that you pull your vehicle ahead to park as not to hold up traffic and so that the team can continue to serve other guests.
For more information, checkout the Visit Us page.
Below is our playlist of Christmas music that can be heard playing at the event as you drive through.